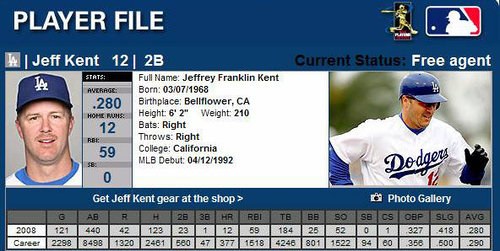 如果光從成績來看
Jeff Kent 絕對可以成為偉大的二壘手
畢竟他保有很多二壘手的紀錄
不過
如果從整體而言
就『個人』觀點
我卻覺得他一點都不偉大
因為
Jeff Kent 是名正言順的『顧人怨』球員!

這『顧人怨』三個字可不是我自己要把它慣在 Jeff Kent 的名字上的喔!
記得在前幾年大聯盟曾經舉辦一個球員之間的相互投票
要票選出『最具親和力』和『最令人討厭』兩種極端型態的球員
如果記憶沒錯
那年票選出來的『最具親和力球員(球員最喜歡的)』
獲選的是當年還在辛辛那提紅人隊的 Sean Casey(後來轉到匹茲堡、老虎、紅襪)
而臭名滿天飛的『最令人討厭球員(球員最討厭的)』
在我的記憶中有兩位
一位是全壘打保持人 Barry Bonds
而另外一位就是 Jeff Kent
我打包票這是真實的喔!

為什麼 Jeff Kent 會令人討厭?
聽說
他為人非常自私
對待後進也很不客氣
他還曾經說過:『我幹嘛要把技巧教給菜鳥,我來球隊又不是要教菜鳥的。』
(從字面上看起來,這話也沒錯阿)
所以
聽說跟他同隊過的球員都非常討厭他
不過
也聽說 Barry Bonds 跟 Jeff Kent 很要好
這也因為他們在舊金山巨人隊共事過5年
加上個性都很機車
或許是臭味相投吧~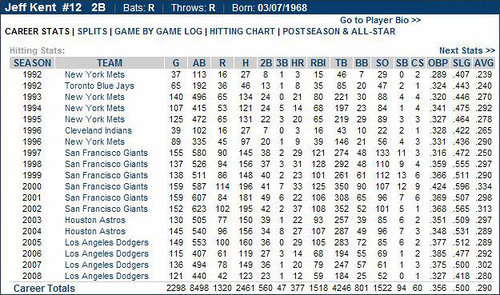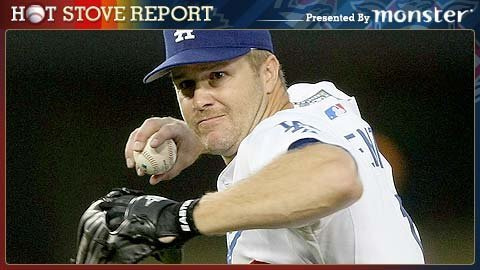 Kent walks away after 17 seasons
Retires as all-time home run leader among second basemen

By Ken Gurnick / MLB.com

LOS ANGELES -- Jeff Kent, the premier slugging second baseman of his generation and arguably of all-time, will announce his retirement at a Dodger Stadium news conference Thursday.

The 40-year-old Kent will retire with a resume worthy of Hall of Fame consideration. The all-time leading home-run hitter at his position, he played the last four seasons of a 17-year MLB career with the Dodgers, hitting a combined .291 with 75 home runs.

He will retire with a .290 career batting average, 377 home runs, 1,518 RBIs and a .500 slugging percentage. His 351 home runs hit as a second baseman are 74 more than the next closest second baseman, Hall of Famer Ryne Sandberg.

The 2000 National League MVP, Kent was a five-time All-Star and four-time Silver Slugger. He drove in more than 100 runs eight times (a record at the position), scored at least 100 runs three times and had at least 20 home runs 12 times. In 2008, he passed Ralph Kiner, Gil Hodges and Carlton Fisk on the all-time home-run list and passed Billy Williams, Dave Parker and Mickey Mantle on the all-time RBIs list. He's tied with Eddie Murray for 20th on the all-time doubles list with 560.

Last year, Kent became the first 40-year-old in Dodgers history to go into a season as a starting position player. After batting .253 during the first half of the season with little protection in the lineup, he enjoyed a resurgence when Manny Ramirez was added to the lineup. Kent caught fire to hit .353 in August, only to injure his knee Aug. 29 and undergo surgery Sept. 2.

While the Dodgers were overtaking the Diamondbacks to win the NL West, Kent rushed back in time to make the postseason roster and let it be known he felt ready to play. But he was relegated to a bench role during both playoff series and went 0-for-9 with four strikeouts. He finished the regular season hitting .280 with 12 homers and 59 RBIs in 121 games.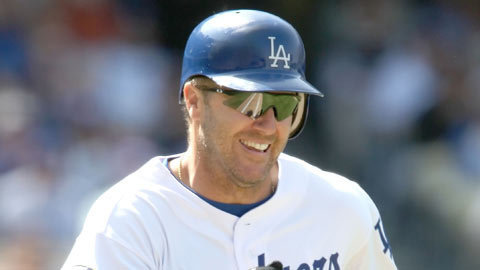 Following the 2008 season, Kent was eligible for free agency and Dodgers management, anticipating his retirement, moved Blake DeWitt to second base after re-signing Casey Blake. DeWitt had replaced Kent at the position after the surgery.

Kent's best season with the Dodgers was 2005, when he hit 29 homers with 105 RBIs and 100 runs scored and made his only All-Star appearance for the club, the first Dodger to start an All-Star game at second base since Steve Sax in 1983.

The son of a policeman, Kent grew up in Southern California, was a walk-on shortstop at the University of California at Berkeley and began his professional career after being drafted by the Toronto Blue Jays in 1989.

He also played for the Mets, Indians, Giants and Astros, enjoying his greatest success when matched with antagonist Barry Bonds in the Giants' lineup. With San Francisco in 2002, Kent made his only World Series appearance, hitting three home runs while the Giants lost to the Angels in seven games.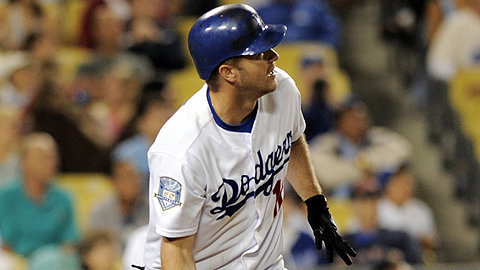 Early in his career, Kent developed a reputation for his work ethic and no-nonsense commitment to winning, although he received at least as much media attention for his intolerance of teammates who didn't share his intense approach. He had run-ins with Bonds, as well as Dodgers teammate Milton Bradley.

In 2007, he aired his frustration to reporters after the Dodgers had fallen out of the division race and the resulting dust-up fueled stories about a clubhouse divide between old and young players that hastened the departure of manager Grady Little.

In recent years, Kent has been critical of players who used performance-enchancing drugs, while advocating more widespread testing to ensure a level playing field.

Kent, who makes his offseason home in Austin, Tex., is married with four children, the oldest age 12 and the youngest 5. He has increasingly expressed interest in spending more time at home with his family. He also runs Kent Powersports, owner of Yamaha of San Antonio.